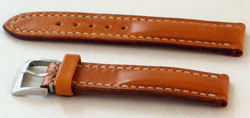 Watch Straps
Padded and Hand Stitched
Please contact Arne to order.
Custom Cases and Accessories
Made to your exact specifications, our presentation cases provide the ultimate showcase for any collectible.
Presentation cases for multiple reels feature cushioned cavities that fit the reels exactly for secure protection and elegant display.
Hard cases are built around a frame of kiln dried birch, imported from Finland, and fully lined inside with the same topgrain leather used by fine bookbinders. The leather covering is oak tanned English bridle, hand stitched and cleanly finished to the highest standards of craftsmanship.
Hardware is solid brass from Italy, polished and laquered to our specifications. We offer our own hand-molded leather corners or solid brass Italian corners. Decorative embellishment and custom features as per your request.
Attache and sample cases, traditional leather tackle boxes, gun cases and specialty cases are priced as per order. Exotic materials available and priced per order. Deposit required.